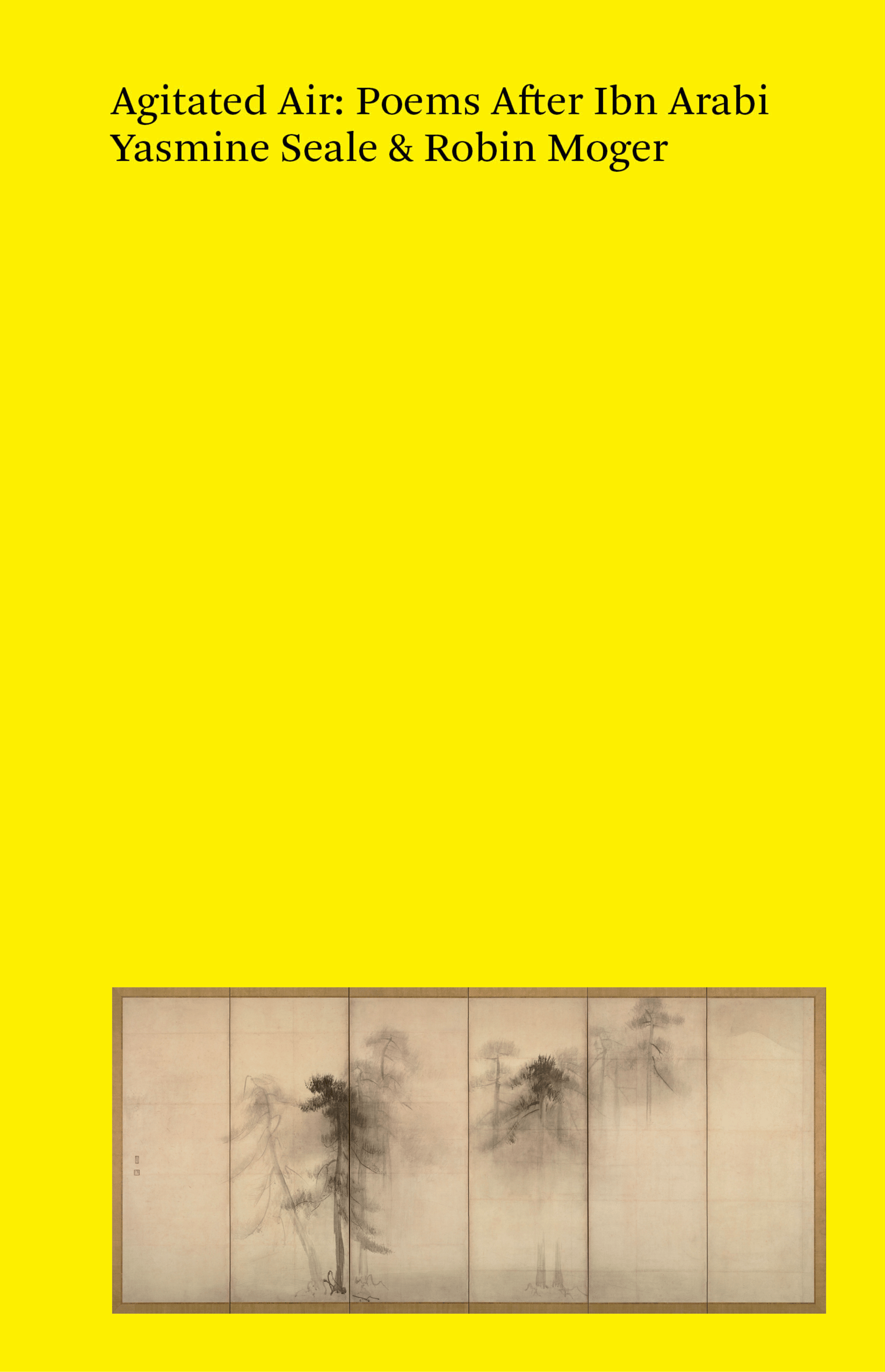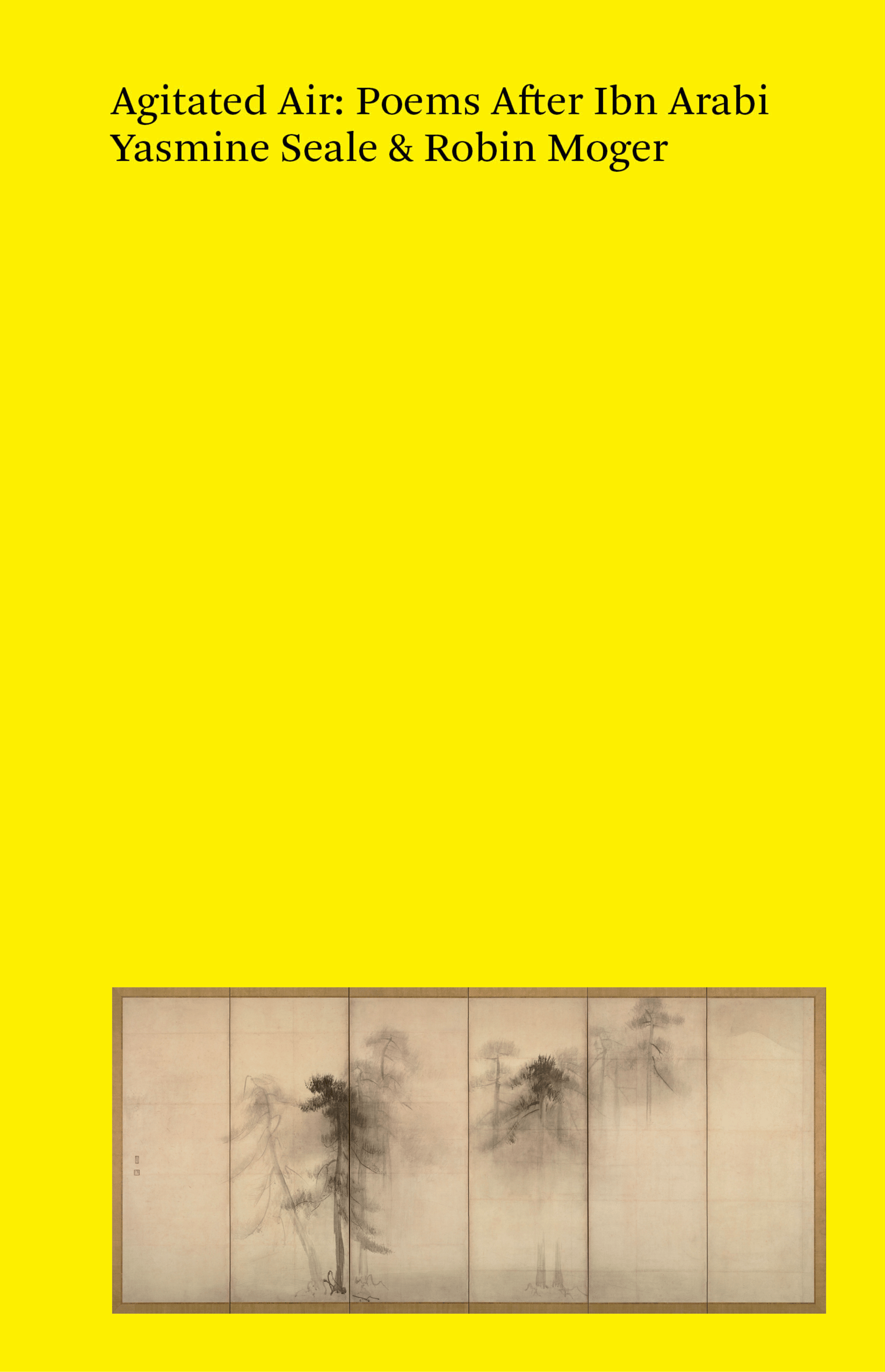 Yasmine Seale & Robin Moger, Agitated Air (松林図 屏風, 'Shōrin-zu byōbu')
£16.50
Tenement #3 / ISBN: 978-1-8380200-4-0
149pp / 140 x 216mm
Edited by Yasmine Seale & Robin Moger
with Dominic Jaeckle
Designed and typeset by Traven T. Croves
28.02.22
In this heavenly and heartbreaking collection, the nasibs, preludes or love-songs of Mohieddin Ibn Arabi are translated to vividly retell the human erotics of divine love. The dialogic method of the translator-poets means that each poem is a collaborative attempt to retrieve a passion that is elusive and 'steady;' set to 'sliding scales,' the lyric like a 'waterski' on the distance between them. The imagery is touching and evocative, sweet and spiritual. The reader is reminded of a love that is active and ongoing, told in a linguistic tense that subtly, tragically, holds the sought for moment away from us. We may never find anything that gets as close to the deferring grammar of love as the phrase, 'when held.'
Holly Pester
Antiphonal, intimate and virtuoso, these variations respond to the sense that the interpretation of desires can be endless—it can dance this way and that, and then and turn again. The exchange of voices, singing lines that meet and part, pick up on the presence of the lover and the beloved in the poems; as Yasmine Seale and Robin Moger pass each newly wrought phrase back and forth between them, the distance between Seale in Istanbul and Moger in Cape Town is bridged, and so are the centuries that separate us from Ibn Arabi, his mofifs, his mystical ascents and descents, and his anguished yearning. This is translation as intrepid and inspired re-visioning, a form of poetry of its own, as forged by Edward FitzGerald, Ezra Pound and Anne Carson.
Marina Warner
Agitated Air creates wonderful and vulnerable ways into knowing as yearning: source texts and original responses, expansions and contractions, song and sigh.
Vahni Capildeo
•
Born in Murcia in 1165, Ibn Arabi was a prolific Muslim philosopher and poet. He travelled extensively before settling in Damascus, where he died in 1240. Tarjuman Al Ashwaq, or The Interpreter of Desires, is a cycle of sixty-one Arabic poems. They speak of loss and bewilderment, a spiritual and sensual yearning for the divine, and a hunger for communion in which near and far collapse.
Agitated Air is a correspondence in poems between Istanbul and Cape Town, following the wake of The Interpreter of Desires. Collaborating at a distance, Yasmine Seale and Robin Moger work in close counterpoint, making separate translations of each poem, exchanging them, then writing new poems in response to what they receive. The process continues until they are exhausted, and then a new chain begins.
•
See here for further word on this title.
150 first editions will carry a cover sticker; 'Pine Trees' (松林図 屏風, 'Shōrin-zu byōbu'), circa 1595, by Hasegawa Tōhaku (長谷川 等伯). Copies will alternately be adorned with either the left- or right-hand panel from Tōhaku's work.
Please be advised that adorned copies will ship within two weeks of a placed order.
Yasmine Seale is a writer and translator. Her essays, poetry, visual art, and translations from Arabic and French have appeared widely—in Harper's, Poetry Review, Wasafiri, Apollo and elsewhere. Current projects include a new translation of The Thousand and One Nights (W. W. Norton) and a translation of the poems of Al-Khansa (NYU Press). After five years in Istanbul, she lives in Paris. 
Robin Moger is a translator of Arabic to English recently moved from Cape Town to Barcelona. His translations of prose and poetry have appeared in Blackbox Manifold, The White Review, Asymptote, Words Without Borders, Seedings, and others. He has translated several novels and prose works, most recently Haytham El Wardany's The Book Of Sleep (Seagull) and Slipping by Mohamed Kheir (Two Lines Press).