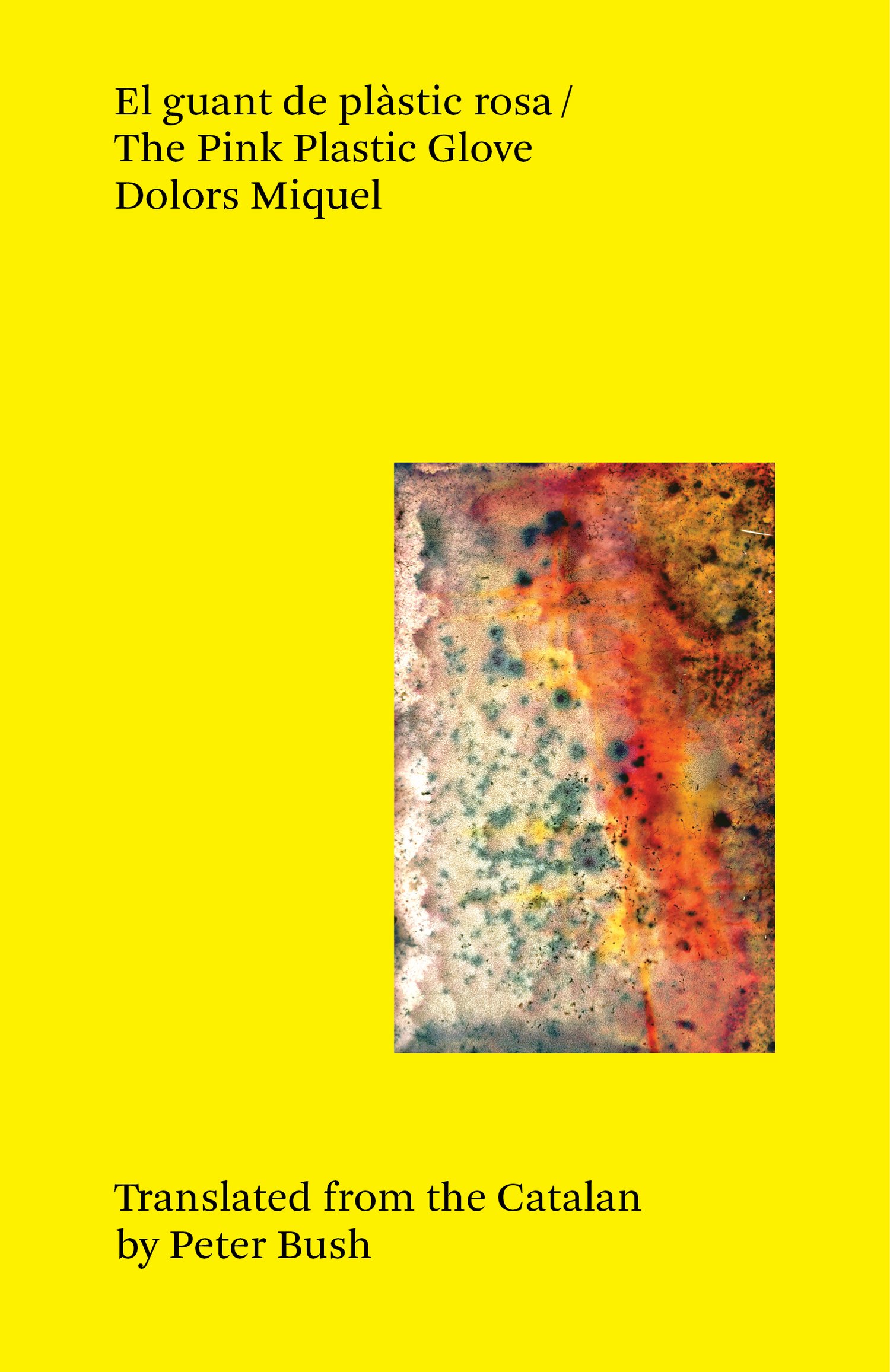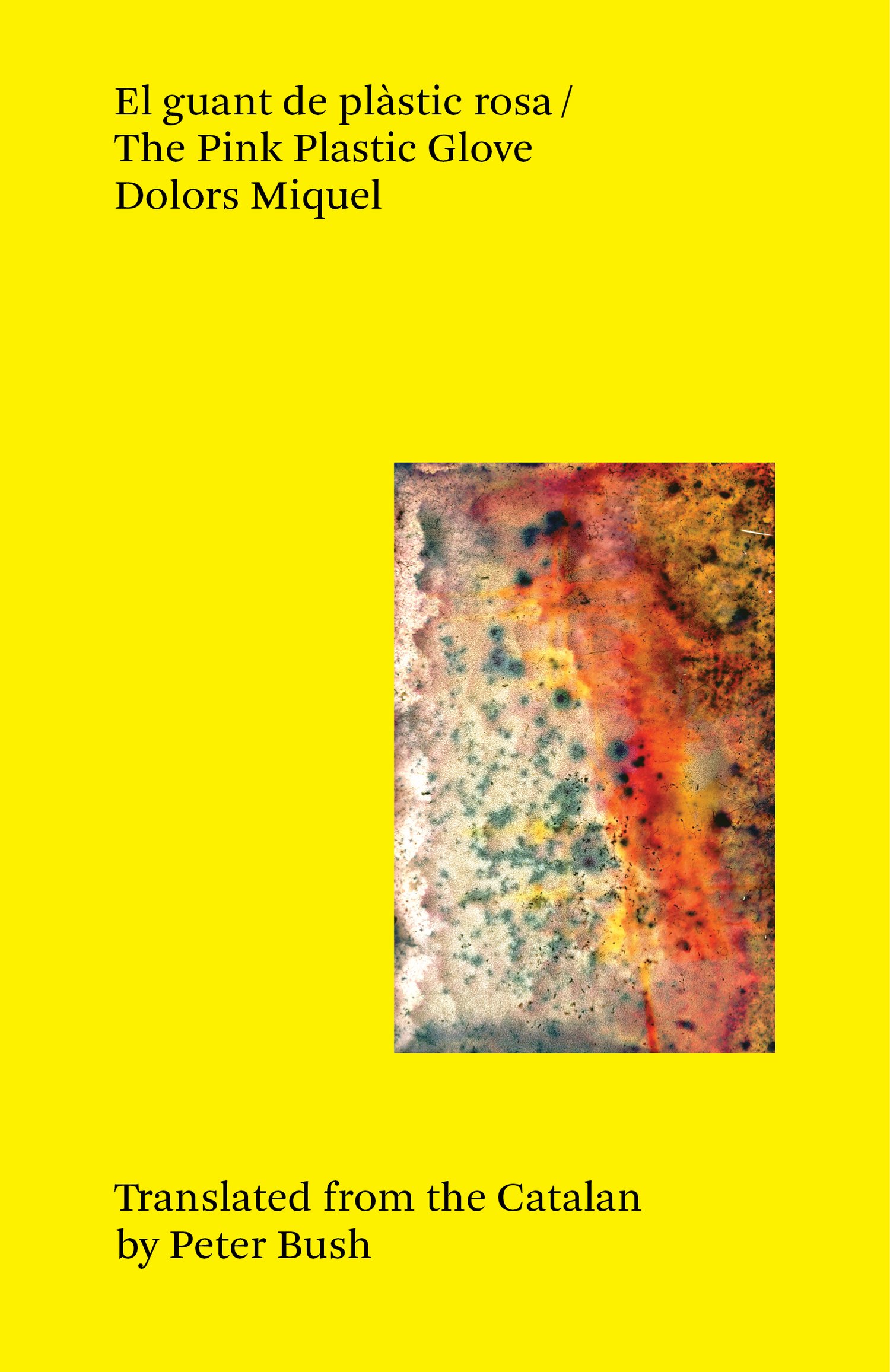 Dolors Miquel, El guant de plàstic rosa / The Pink Plastic Glove ('where horses lick the shadows')
£16.50
Tenement #9 / ISBN: 978-1-7393851-0-1
140pp / 140 x 216mm
Translated from the Catalan by Peter Bush
Edited by Dominic Jaeckle
Designed and typeset by Traven T. Croves
21.07.23
In a first-time English language translation by Peter Bush, Tenement Press publishes a bilingual edition of Miquel's seminal collection, awarded the Ausiàs March de Gandia 2016.
•
The Pink Plastic Glove is language fighting for its life, or more appropriately, for its death. It points to what lies beyond language in a way that opens onto the archaic, and in a way that makes you gasp. Dolors Miquel is the grand disappearer of words, with a style so lucid, and savage, that it makes tangible the invisible behind words and the long blank at the end of meaning without ever losing faith in the power of language to do exactly that. I'm struggling to say exactly what the experience of reading this book feels like, which is exactly the effect of this supremely discomfiting book, to be in the un-worded presence, through words themselves, of the sacred. The Pink Plastic Glove is a supreme act of faith and despair.
David Keenan
Erotic, caustic, uncompromising, alive...
Dolors Miquel's poems are a pulsating delight.
Nadia de Vries
Dolors Miquel is a blast of fresh water irrigating the stony terrain of Catalan poetry.
Francesc Gelonch
Amb l'aspresa del fregall de color verd, com un prat verd, rasco, mentre intento amb la mandíbula serrar el teu nom dins de la cavitat cranial, que ja n'és plena, de noms, i sobre els noms les pedres, i sobre les pedres els continents, i sobre els continents les necròpolis dels astres, quan una pluja intensa ho esborra i em llepa els llavis perquè digui i digui i digui. I no calli més.
I scrub with the green scourer, green as a meadow, while with my jaw I try to etch your name in the cranial cavity, that is already full of names, and on the names stones, and on the stones continents, and on the continents necropolises of stars, when a heavy downpour erases it and licks my lips urging me to speak, speak, speak. And never be silent.
Així que rasco, frego fins que em faig sang i de la sang en neixen roques amb un cor clos al dedins. I de la boca em cau un nom que rodola fins allí on els cavalls llepen l'ombra dels ocells que no poden volar.
And so I scrub, I rub till I bleed and rocks spring from my blood that enclosed a heart. And a name falls from my mouth and rolls down to where horses lick the shadows of birds that cannot fly.
•
Life asked Death why he needed her to live / And Death asked Life why she needed him to die … So begins Miquel's El guant de plàstic rosa / The Pink Plastic Glove, a lyrical, acute, and metaphysical sequence of poems some fifteen years in the making. At the heart of Miquel's collection, we've a central image. An unnamed man in a state of constant decomposition, rotting away in the kitchen sink. Piece by piece, his slow unbinding underpins a train of images wrought in sensuous, playful, and dynamic language. Stark vignettes spun from everyday colloquy—run through with the aura of Catalonian Renaissance writings—and gilded with a patina of light, a glut of shadow, and a blur of sensory experiences.
El Guant de Plàstic Rosa houses 36 studies of the dynamics of decay. The purr and buzz of bees humming, off-stage asides, slaughtered cows, mountains made of olive stones, the hum of a permanently empty refrigerator, and edible dreams littered with dahlias and roses, with carnations and colourful chrysanthemums...
Here, sex rattles the bones; Miquel's pages percolate with love, with life—the subjectivist and social connotations of disease and decay—and on the prospect of mass destruction in a world itself on the brink of a self-inflicted extinction. In Bush's visceral new translation, this chaos of signifers sing-speaks its way through the undying days of a century beyond its "sell-by," and cogitates on life—so furnished with all its illusions and ironies—in an age consistently defined by its constant decline.
•
See here for further word on this title.
100 first editions will carry a cover sticker as adornment; Doug Harvey's 'Heaven' (I) and (II), alternately; decayed photographs excerpted from Harvey's ongoing project, 'Mouldy Slides'—a cache of discarded amateur photographic 35mm transparencies dating to the 1970s found in and amidst piles of material being disposed of during an apparent hoarder intervention. The slides had been subjected to flooding and grown various types and degrees of fungal layers, altering the pictorial content of the emulsion, sometimes slightly, and sometimes transforming the image into a total abstraction.
Dolors Miquel is a leading Catalan poet. From an early age, her distinct and critical voice—as evidenced in her writing for the page and the stage—upset many in her provincial birthplace. Expelled from a school run by nuns, Miquel studied in Barcelona, where she founded the literary magazine La Higiènica and, in the mid-90s, began to publish poems in a variety of styles. In collaboration with other Catalan poets, Miquel would organise week-long tours of small towns (ever keen to perform her works) and her writings—sharp, clear-eyed and ever-political—distill her roving criticality in a poetry that desecrates everything: 'the Church, politics, and, naturally, the male figure' (María Eloy García). In Gitana Roc (Llibres Del Segle, 2000), Miquel would express the core of her work as follows: 'I talk about the damage caused by social structures, such as the family or the police. Love is the most frightening contract of fear, also the most powerful safeguard of society, and sex is the carrot.' This aura of critique defines Miquel's extensive bibliography (with over twenty collections under her name to date), and she has received numerous awards, such as the Rosa Leveroni (1989), Ciutat de Barcelona (2005), Gabriel Ferrater (2006), and Ausiàs March de Gandia (2016). She has published numerous collections, among them La dona que mirava la tele / The woman who watched TV(Edicions 62, 2010) and La flor invisible / The invisible flower (Bromera, 2011). Her latest book, Sutura / Suture (Pagès, 2021) is her final work as a poet; Miquel lives and works in Torredembarra, and continues to publish theatrical texts and other writings.
Peter Bush is a translator. His first literary translation was Juan Goytisolo's Forbidden Territory (North Point Press, 1989) and Bush has to date translated eleven other titles in Goytisolo's bibliography, including The Marx Family Saga and Exiled from Almost Everywhere. He has translated many Catalan writers including Josep Pla, Mercè Rodoreda, Joan Sales, Najat El Hachmi and Teresa Solana. His most recent effort is A Film (3000 meters) by Víctor Català, the classic 1919 feminist novel set in Barcelona's criminal underworld. Bush lives and works in Bristol.
The translation of this work
has been supported by
the Institut Ramon Llull, 2023