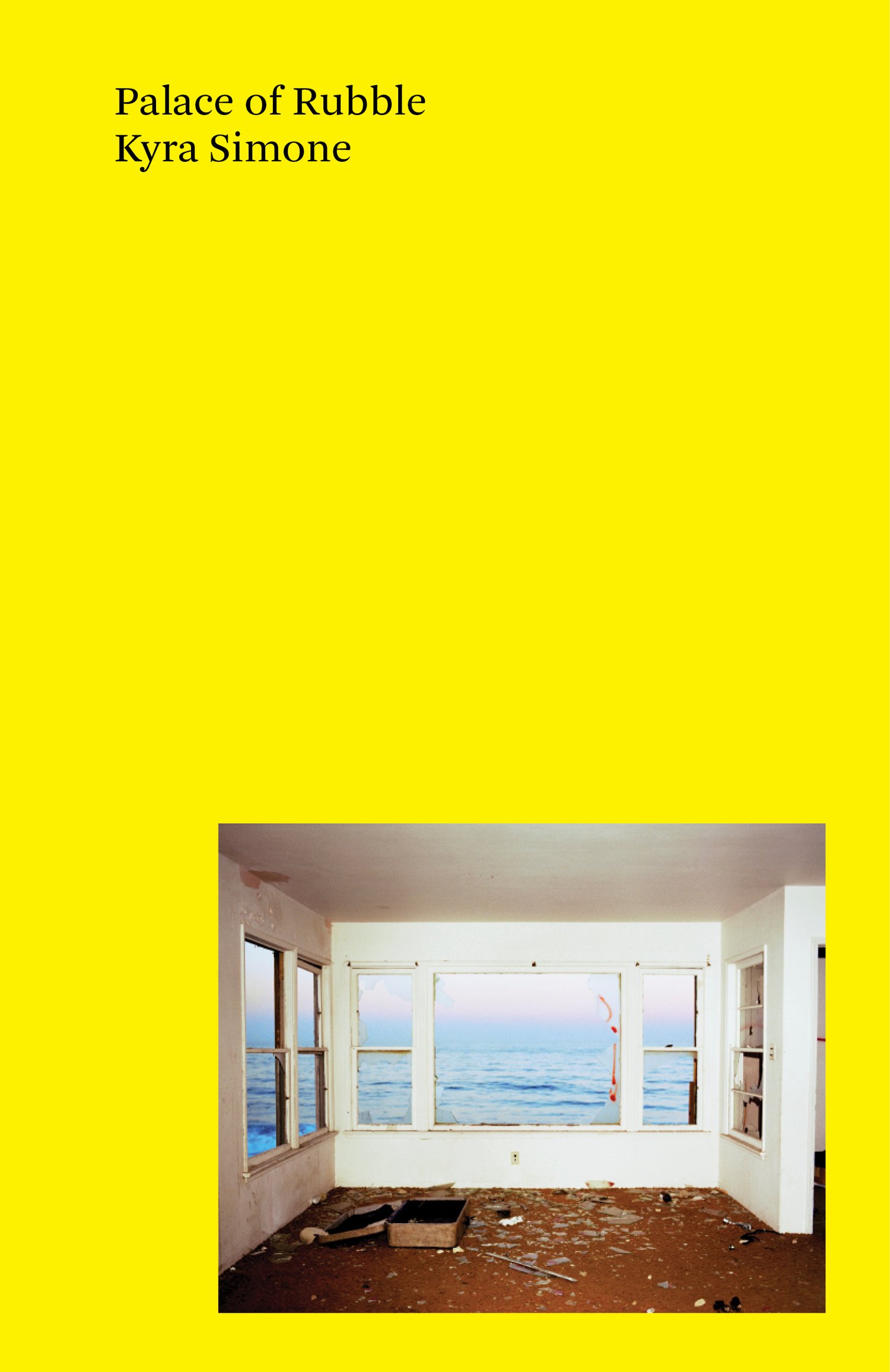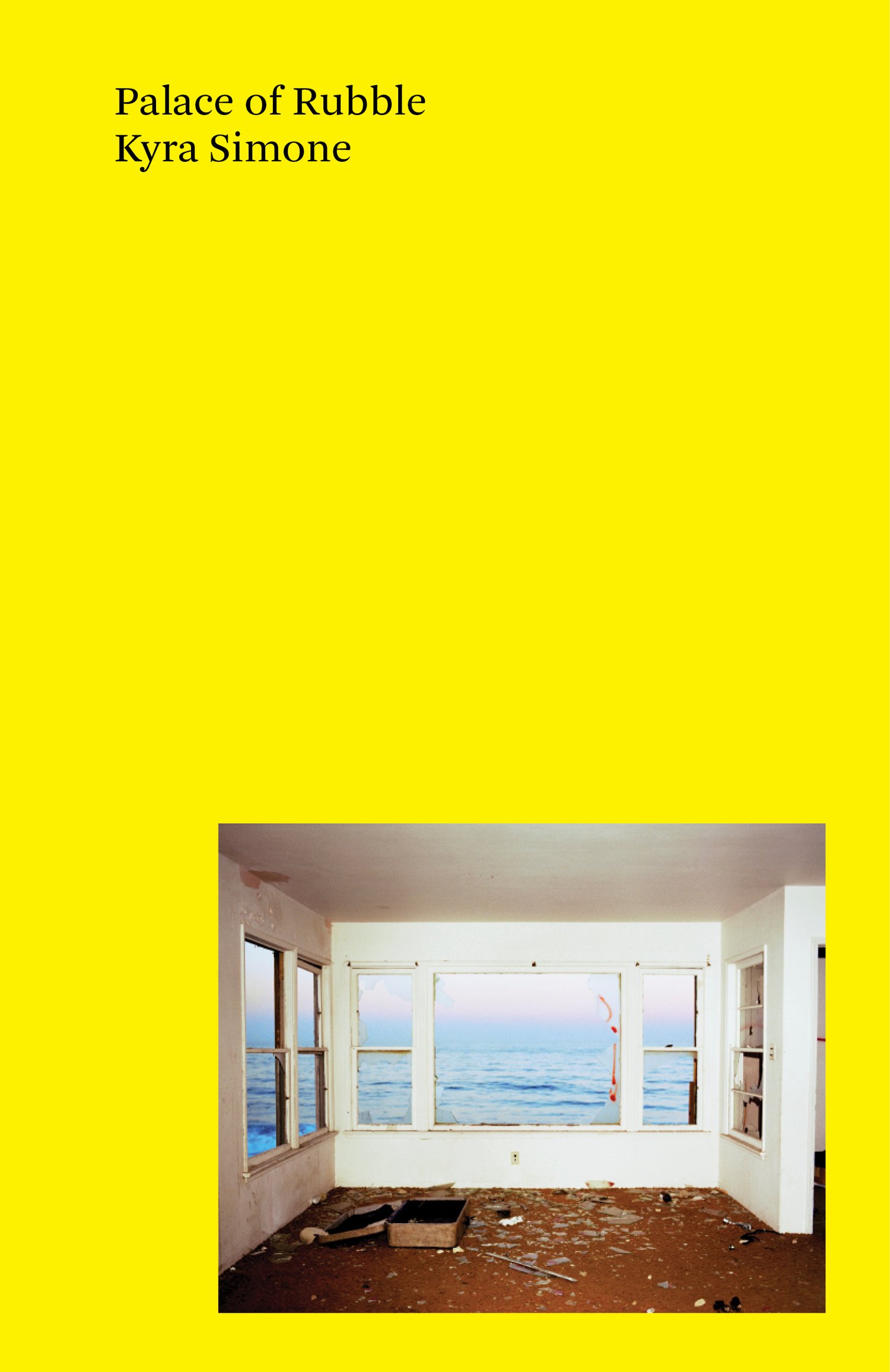 Kyra Simone, Palace of Rubble (Zuma)
£16.50
Tenement #6 / ISBN: 978-1-8380200-7-1
170pp / 140 x 216mm
Edited by Dominic Jaeckle
Designed and typeset by Traven T. Croves
04.10.22.
•
Kyra Simone's Palace of Rubble is a collection of one-page stories composed primarily of single words culled each day from the New York Times, among other news sources. Written under constraint in the tradition of Oulipo, these hybrid works of prose are reconstructions that no longer resemble the original texts, yet draw from the same reservoir of vocabulary, conveying new images and ideas, while preserving some distant ember of the universe from which they were first generated. Initially inspired by a photograph of one of Saddam Hussein's demolished palaces printed on the cover of a newspaper Simone found discarded on a café table during the fall of Baghdad in 2003, Palace of Rubble has since evolved into an accumulation of texts invoked by a historical moment spanning the eras of Bush, Obama, Trump, and into the present day. Offering surreal glimpses of what might be identified as echoes of a post-Republic America, an imagined Middle East, and some other unnamed and unreachable world, it chronicles a vivid landscape of crumbling towers and heart-broken animals, eclipses, comets, and lovers in abandoned rooms, still searching for beauty amidst the ruins of the catastrophe bequeathed to them.
Gathering stories previously published in The Atlas Review, Arts & Letters, Conjunctions, The Brooklyn Rail, Little Star, and The Fabulist, amongst other journals, the Tenement publication of Simone's Palace of Rubble partners her writing with a selection of photographs by artist John Divola.
•
Like traditional methods of salting, pickling, drying, and smoking, Palace of Rubble saves transitory substance from expiration. From the stuff we unfold in the morning and throw in the recycling bin at night, Simone coaxes the rhythms of cyclical life, the patterns and variations on patterns that define the sphere of the daily, that baseline on which extraordinary events and crises exert their pressure. The world she constructs is recognizable, textured, gently humorous—but also luminously, piercingly exact, possessed of the strangeness of seeing something for the first or the last time. It has an effect that can feel for the reader like peering into a place that is both familiar and unknown, gazing at this place through the blur and distance implied by the passage of large swathes of time, physical displacement or shifts in ontological perspective.
Alexandra Kleeman
This book is a record of the inner landscape we've left for those called Millennials. It is a historical document, charting what they see when they look out the window and what they see when they look in the mirror, at the same time, on the same page. Simone teaches us not to expect a destination or a helping hand. She sees beauty everywhere, but that doesn't make anything alright. The closest I've seen to these "palaces" is Rimbaud, except Rimbaud never had a body and these are written from the body. There's a strength here, the strength of an artist claiming her ground. No matter what. It's the "no matter what" that is better than hope or promises. I find this work extraordinary.
Michael Ventura
•
See here for further word on this title.
100 first editions will carry a cover sticker as adornment; John Divola's 'Zuma #8' (1977).
Kyra Simone is a Tunisian-American writer from Los Angeles, now based in Brooklyn. Her fiction and poetry have appeared in a variety of literary journals, including The Baffler, The Brooklyn Rail, BOMB, Conjunctions, The Anthology of Best American Experimental Writing, and elsewhere. Simone is a member of the publishing collective Ugly Duckling Presse, and part of a two-woman team running the editorial office of Zone Books. See here.
John Divola works primarily with photography and digital imaging. While he has approached a broad range of subjects he is currently moving through the landscape looking for the oscillating edge between the abstract and the specific. Since 1975, Divola has taught photography and art at numerous institutions including California Institute of the Arts (1978-1988), and (since 1988) he has been a Professor of Art at the University of California, Riverside. Divola's work has been featured in more than seventy solo exhibitions in the United States, Japan, Europe, Mexico, and Australia, and in more than two hundred group exhibitions in the United States, Europe, and Japan. See here.